Campsites and rural tourism establishments lead the percentage growth in tourism demand in July
The latest tourism activity data in Destination Barcelona have been updated - July 2023 edition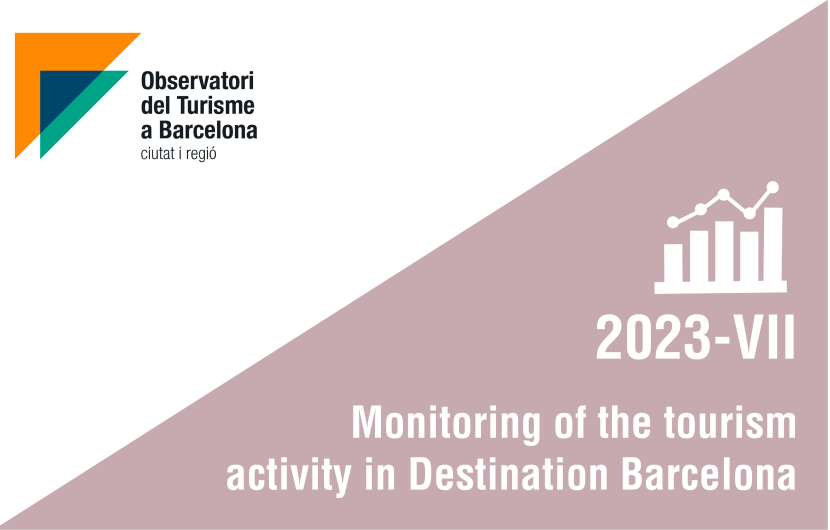 In July 2023, tourism activity in Destination kept growing due to the natural seasonality of tourism, so that the main indicators of accommodation and tourism demand were above the previous month. 

 
Below are the key indicators of July:
The number of open bed places in tourist accommodation grew slightly in Destination Barcelona, with an average of over 180,000 beds were available, reaching similar levels as in the same period in 2019.
Overnight stays increased +20.1% MoM in the Destination as a whole, also because of tourism seasonality, registering almost the same overnights than in July 2019. Thus, the number of nights increased in all types of accommodation compared to June: campsites (+69.1%), rural tourism (+62.9%), hotel establishments (+17.4%) and Homes for Tourist Use in Barcelona city (+9.3%).
The average length of stay in Barcelona city (3.1 nights) kept higher than before the pandemic (+0.3 nights Var. Jul23/Jul19). Despite growing on the previous month, the length of stay in Barcelona region (3.4 nights) was still slightly below 2019 (-0.3 nights).
At Barcelona Airport, almost 5 million passengers were recorded (+10,3% MoM). Thus, the air traffic kept experiencing a slight decline compared to pre-pandemic figures, with a -7.9%-change compared to the same period in 2019.
In Barcelona Port, cruise passengers increased once again on the previous month (+17.4%), overcoming those of the same period in 2019 (+25.0%). On the other hand, ferry passengers grew sharply on June (+62.3%), also ahead those registered in July 2019 (+28.0%).
ICUB cultural facilities received less visitors than in the previous month (-17,7%). However, almost 3 out of 4 visitors in June were international.
Domestic tourists increased their share in hotel establishments in the city of Barcelona (18.0% share and +0.4pp MoM), thanks to a +17.1%-increase in just one month. United States (14.9% share) was, once again, the leading international market, followed by the United Kingdom (7.9%) and France (7.1%). In Barcelona region, Spanish tourism was reduced by -1.8pp, although doubling their share if compared to Barcelona city's (37.8%).
The average expense during the stay in the Destination was €66.0, 4€ behind the previous month, but ahead of the same period in 2019 (+10.5%). Spending in Barcelona city kept being higher than in Barcelona region (82.4€ vs. 40.5€). In any case, food and beverages continued to be the main item of expenditure, followed by clothing, footwear, souvenirs and personal effects.
The proportion of bank card revenues coming from international cards has been increasing up to 30% in summer of 2023 in Barcelona city shops.
Registered unemployment in tourism activity remained below pre-pandemic levels (-15.2%). Despite this, new hiring fell month-on-month, especially indefinite contracts (-18.8%), which for the first time since the beginning of 2023, was below the number of temporary contracts.
_________________________________________
With the analysis of the different thematic areas, which offer a transversal vision of the sector, the Observatory of Tourism in Barcelona updates the monitoring of the tourism activity. This analysis complements the monthly report on the Profile and Habits of Tourists in Barcelona Destination. All data is presented in three geographical areas: Barcelona city, Barcelona region, and Destination Barcelona.
Related news