Destination Barcelona tourism forecast 16/09/2022
The Observatory of Tourism in Barcelona updates the Destination Barcelona tourism forecast report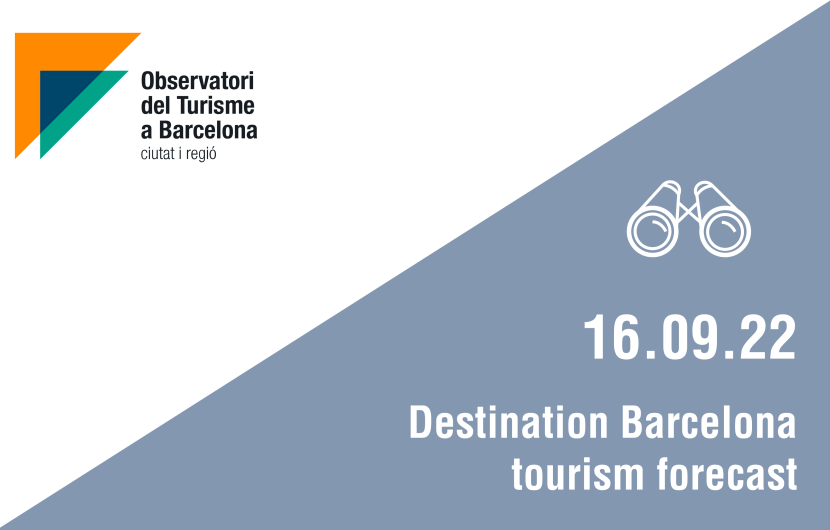 The Observatory of Tourism in Barcelona updates the Destination Barcelona tourism forecast report as of 16/09/22.
Destination Barcelona travel conditions
In Spain, intercontinental passengers are allowed to enter with a EU Digital COVID certificate or a vaccination, diagnostic or recovery certificate.
Passengers from EU or Schengen countries are accepted without any certificate. 
Transportation offer
The forecasts show an decrease in the number of seats operated worldwide through the next weeks. In October, an interval between 85% and 90% of recorded supply in the same month of 2019, while in November the capacity would increase again.
As of 31/08/2022, 75 airlines are operating 182 routes, of which 46 intercontinental in Barcelona Airport.
During the following week, 25 cruise ships are leaving or making a stopover at Barcelona Port. In September, 91 cruises are expected to operate in the city.
Tourist offer and professional events
By the end of July 2022, 438 hotels and 75,864  bed supplies were open in Barcelona city.
As for the culture offer, 87 out of 89 cultural facilities monitored in Barcelona city are open.
There are currently 146 congresses confirmed for the upcoming years, 80 from August to December 2022. In the meanwhile, about 100 applications are open until 2027.
Tourist demand
Over the last week, Google searches from Spain for both Barcelona city and Destination Barcelona have decreased. Most of the searches for both geographical areas kept coming from Catalonia.
From 30/08/22 to 05/09/22, Destination Barcelona got its best positioning in Spain, France, Italy, and The Netherlands. Destination Barcelona ranked the 11th in searches for accommodation and the 9th in those for flights in the ranking of international destinations worldwide.
Finally, from 30/07/22 to 05/08/22, hotel reservations in Barcelona city stood, on average, at 86.3% compared to the series peak, which was in February 2021. These levels were lower than those of the previous week (90.1%). In Barcelona region, the bookings achieved 88.9% of the series peak level (May of 2022), above the previous week's bookings (81.5%). In terms of origin, international bookings exceeded domestic bookings in Barcelona city (74.5%), while in Barcelona region domestic bookings (62.3%) were higher than the international. Currently, the bookings level for the rest of the year is above last year, especially for stays in September and October, and the lead time is 51 days in Barcelona city and 27 days in Barcelona region.
Related news