Destination Barcelona tourism forecast 05/11/2021
The Observatory of Tourism in Barcelona updates the Destination Barcelona tourism forecast report.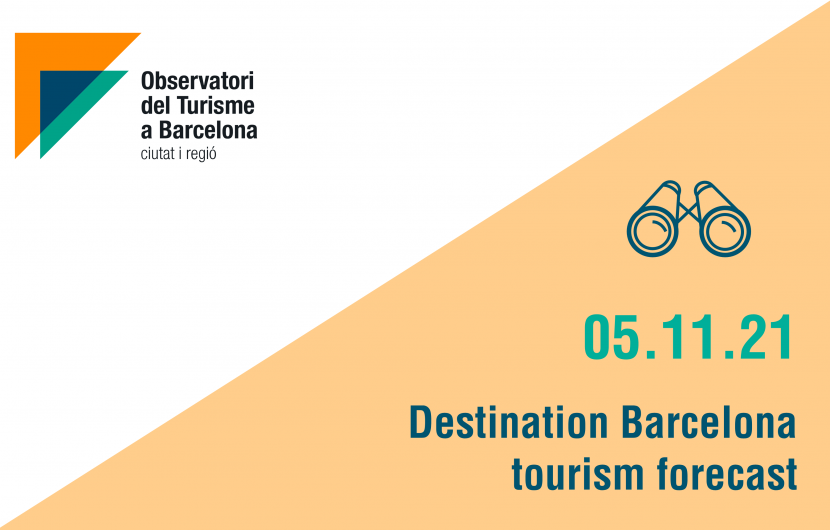 The Observatory of Tourism in Barcelona updates the Destination Barcelona tourism forecast report as of 05/11/2021. This report highlights the effects of Covid-19 on the tourism sector.
Current Covid-19 restrictions in Catalonia
In Catalonia, from 05/11, the following measures affect the tourism sector:
Restaurants and bars: 100% on both the inside and the outside of the establishments. Covid certificates must be presented at establishments where dancing is allowed.
Commerce: 100% of capacity on both small businesses and shopping centers
Professional events: allowed at 100% of their capacity
Culture: 100% of capacity in museums, exhibition centers, cinemas and concert halls
Music festivals, musical activities and​ nightlife: 100% of capacity on the outside areas and 80% on the inside with Covid certificate. Dancing with face mask is allowed. 
Sports: public is allowed at 100% of capacity. In sports activities with a capacity of more than 10,000 people, independent sectors must be established.
Amusement parks: 100% of capacity
In any case, organizational measures to control agglomerations must be established.
Source markets
The EU Digital COVID certificate is operational. In Spain, the entrance of passengers from EU countries (or zones) with risk is allowed if one of the following is presented:
1. Vaccination certificate
2. Diagnosis certificate
3. Recovery certificate
The rest of EU passengers are accepted without any certificate.
On the other hand, passengers traveling from intercontinental countries considered as "no risk countries" are also accepted as long as they present the vaccination certificate. Argentina and Peru have been included on the "no risk countries list".
As of November 8, United States is easing its travel regulations.
Transportation offer
The global airlines capacity during 01/11 week has decreased by -27.3%, and in Spain, by -18.7% (var. 21/19), although over 2,000,000 seats per week are still being offered. 
The forecasts show an increase in the number of seats operated worldwide through the end of the year, although it must be reminded that airlines continue to readjust their flight schedules week after week.
In Barcelona, Level has announced the re-establishment of the BCN-Los Angeles route and twice the air capacity to the United States than in 2019. Moreover, Korean Air has announced a direct flight from January.
During the following week, 11 cruises ships are leaving or making a stopover at Barcelona Port.
Tourist offer and professional events
92,0% of the cultural facilities in Barcelona city are open.
As for the professional events, it must be highlighted that there are 117 confirmed congresses for the upcoming years, 13 in 2021. Meanwhile, about 90 applications are open until 2027.
Tourist demand
Over the last week, Google searches from Spain for Barcelona city have slightly increased, while those for Destination Barcelona have decreased. Most of the searches for both geographical areas keep coming from Catalonia.
The Barcelona flights and accommodation searches achieve their best positioning in Spain, France, the Netherlands and Italy followed by United Kingdom and Germany. Destination Barcelona has ranked again, 12th in searches of accommodation and 7th in searches of flights in the ranking of international destinations worldwide.
Finally, from 24/10 to 30/10, hotel reservations in Barcelona city, which have had a lead time of 16 days, have stood at 59.8% compared to the series peak (January 2020), which means a decrease over the previous week (69.4%). In Barcelona region, the bookings have stood at 77.9% compared to the series peak (June 2021), which means an increase over the previous week (66.3%). As for the origin of the bookings, international bookings have been higher in both gographical areas: 62,0% in Barcelona city and 54,6% in Barcelona region.
Related news