Traveling alone overtakes traveling as a couple in Destination Barcelona in April
The Barcelona Tourism Observatory presents the monthly report on the Profile and Habits of Tourists in Barcelona Destination.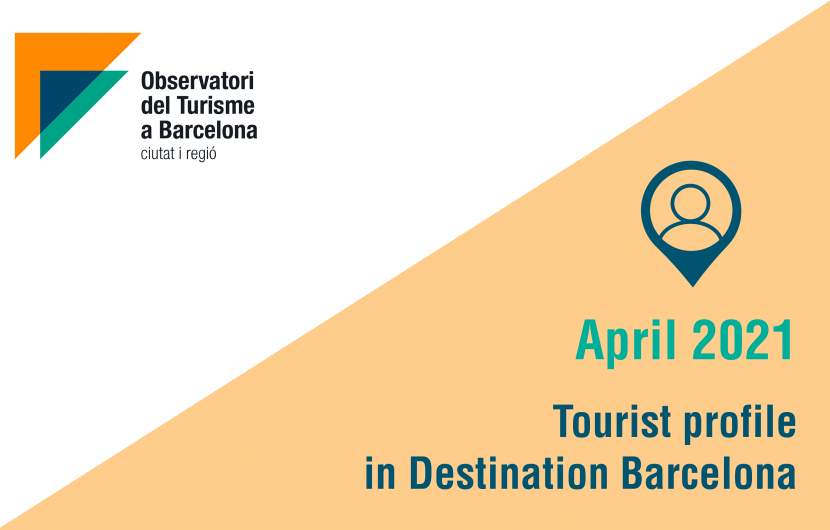 The profile of the tourist who has visited Destination Barcelona keeps being affected by the mobility restrictions, both national and international. During most of April, the population movements have been limited to its region of residence. However, during the first week (Easter holidays), bubble groups were allowed to travel inside the whole of Catalonia, and during the last week of the month, the allowance was extended to all kinds of groups. In April, domestic tourists have kept being predominant, while international tourism starts showing recovery signs.
As shown on the Perspectives of the tourist activity in the Destination Barcelona report, ​​ the air capacity during this month has been reduced (YoY 21/19). However, the plane has ranked the first place as the main means of transport to get to Destination Barcelona, while in Barcelona city, the own vehicle has been the most popular.
The typical tourist profile has been a 37.7-year-old person, who lives in the rest of Spain (34.1%), who has traveled alone (42.5%), and who has visited the destination municipality 29.3 times on average.
In Destination Barcelona, the travel purpose has been quite balanced (30.9% have traveled for professional reasons, 36.0%, for leisure, and 33.1%, for personal and other reasons). However, the territorial reality has presented great differences: in Barcelona region, 41% have traveled for professional reasons and 40.4%, for leisure, while 45.5% have visited Barcelona city for personal and other reasons.
The most used method to buy both transport and accommodation has been directly with the transport company or the establishment (61.0%) and the average stay has stood at 4.8 days. During this stay, taking quiet and relaxing walks (74.7%) and tasting gastronomy (69.2%) have been the most popular activities.
As for the tourist expense, it has been maintained stable at around 200€. More than half of this has been spent on food and drinks, followed, in this order, by shopping, internal transport, and culture.
Finally, the average global valuation of the municipalities has stood at 8.53 out of 10 and the most valued aspects keep being the accommodation (8.61) and the character and kindness of the people (8.37).
Related news