The total expense during the stay increases by 15% in Destination Barcelona in May of 2021
The Barcelona Tourism Observatory presents the monthly report on the Profile and Habits of Tourists in Destination Barcelona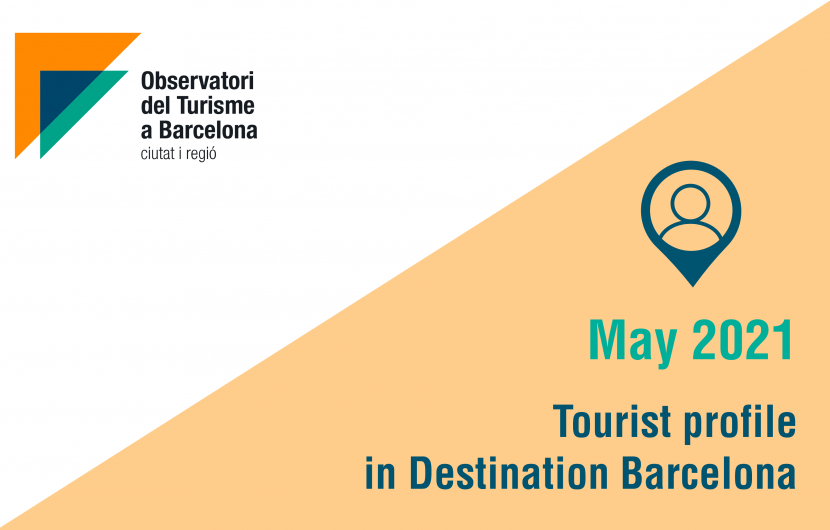 In May, the profile of the tourist who has visited Destination Barcelona has been partially affected by the mobility restrictions, mainly international, as the state of alarm in Spain ended on May 9, and the perimeter lockdown of Catalonia was over. During this month, the proportion of domestic tourists in the destination as a whole has exceeded 60%, despite the differences observed between the city and the region. Barcelona city has registered more international tourists for the first time in months (57.3%), while in Barcelona region Catalan tourists (56.5%) have been predominant.
The private vehicle (40.9%) and the plane (37.4%) have been the main means of transport to get to Destination Barcelona, because of the compensation between those who arrived in Barcelona region by private vehicle (71.3%) and those who arrived in Barcelona city by plane (54.4%).
The typical tourist profile in Destination Barcelona has been a 38.1-year-old person, who has traveled as a couple (45.1%) and who has visited the destination municipality 22.0 times on average. Only 30.7% of visitors had never been to the municipality where they were staying, compared to 46.8% who had stayed there before 4 or more times in the last 10 years.
Compared to the previous months, traveling for leisure reasons (58.1%) has increased as the most common travel purpose in Destination Barcelona, in detriment of those who do so for personal reasons (24.2%).
During the stay, which has stood at 4.0 days on average, taking quiet and relaxing walks (83.1%) and tasting gastronomy (77.7%) have been, once again, the most popular activities.
A 15%-increase in the total expense during the stay has been observed compared to previous months, with a total value of € 276.50. As in previous years, more than half of this has been spent on food and drinks, followed, in this order, by shopping, internal transport, and culture.
Finally, the average global valuation of the municipalities has stood at 8.46 out of 10 and the most valued aspects keep being the character and kindness of the people (8.50) and the accommodation (8.36). Noteworthy are the good valuation scores of the aspects of safety in the city (8.12) and health security (8.18).
Related news