Destination Barcelona tourism forecast 15/01/2021
The Observatory of Tourism in Barcelona updates the Destination Barcelona tourism forecast report.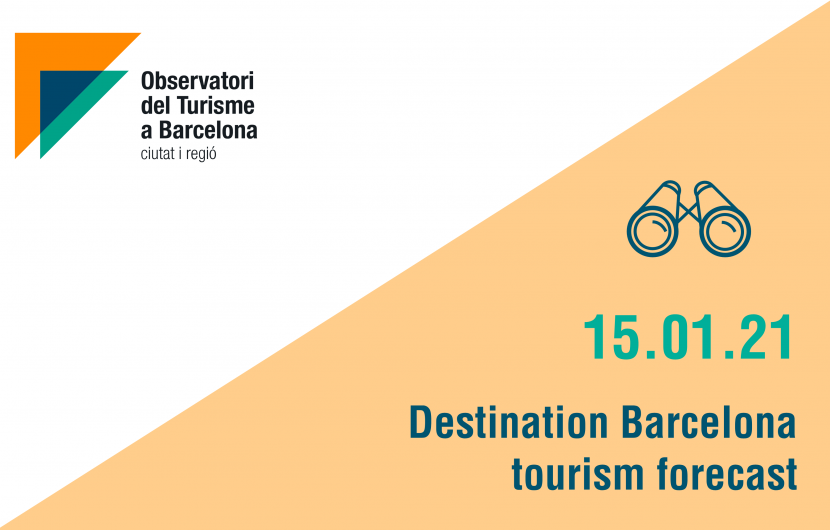 The Observatory of Tourism in Barcelona updates the Destination Barcelona tourism forecast report as of 15/01/2021. This report highlights the effects of Covid-19 on the tourism sector. 
Covid-19 restrictive measures
Despite the increasing number of worldwide vaccinated people, Covid-19 keeps causing restrictive measures.
In UK, the outbreak of a new variant of the virus has led to a new strict lockdown that could long until March.
In Spain, a negative PCR test is required for all those passengers arriving from any high-risk European country. In addition, many Autonomous Communities are implementing perimeter lockdowns.
In Catalonia, until 24/01, the following restrictions are affecting the tourism sector:
- Restaurants and bars: parcial reopening with a capacity of 30% on both the outside and the inside. Opening hours from 7.30 am to 9.30 am for breakfasts, and from 1 pm to 3.30 pm for lunch. From 7pm to 10pm only take-away dinners can be served. Delivery until 11pm.
- Congresses, corporate meetings, and incentives and workshops have been canceled
- Museums and exhibitions are open at 50% of their capacity
- Night curfew from 10 pm to 6 am
- Municipalities perimeter lockdown: it is not allowed to leave the municipality of residence
Source markets
European internal borders keep open but almost all EU countries maintain restrictive measures. Some of them have recommended not to visit Catalonia and/or Spain, others have imposed mandatory quarantines, PCR tests, or other measures to passengers coming from Spain.
The global airlines capacity during 11/01 week has been decreased by -43,3% year-on-year, while in Spain, by -61.8%.
Tourist offer and professional events
On 11/01/2021, 110 hotels with 24.693 beds were available in Barcelona city. The Eixample, the Gothic Quarter, and Sant Martí are the districts with more available offer.
Almost 3 out 4 cultural facilities in Barcelona city are open to the public, but some of the most visited sightseeing places in Barcelona city keep temporarily closed (Camp Nou Experience, Tibidabo, and Casa Batlló).
As for the professional events, it must be highlighted that there are 99 confirmed congresses for the upcoming years.
Tourist demand
Google searches from Spain for Barcelona city have slightly increased over the last week. However, in Destination Barcelona they have increased. Most of the searches for both geographical areas keep coming from Catalonia.
Flight searches to Barcelona from Germany, Spain, US and France have remained stable over the last weeks, but the interest from the UK has kept downsizing. The Spanish market has experienced the least important loss (-65%). By contrast, the most affected market continues to be the United States (-87%).
The hotel bookings in Barcelona city over the last week (04/01-10/01) have decreased: while two weeks ago, 18.7% of bookings had been made, last week, they were 15.9% (as compared with the peak of January). Also, over that same week, the volume of hotel reservations in Destination Barcelona has been lower: while two weeks ago, 36.6% of bookings have been made, last week, they were 25.3% (as compared with the peak of January).
Related news