Destination Barcelona tourism forecast 04/12/2020
The Observatory of Tourism in Barcelona updates the Destination Barcelona tourism forecast report.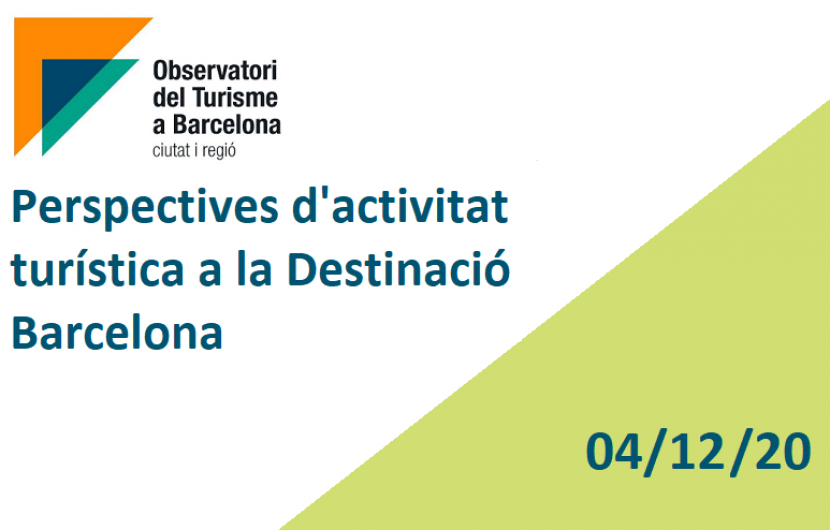 The Observatory of Tourism in Barcelona updates of the Destination Barcelona tourism forecast report as of 04/12/2020. This report highlights the effects of the second wave of Covid-19 on the tourism sector. 
Covid-19: the second wave
In Europe, several countries keep adopting internal restrictive measures to stop the increase of infection, while in Spain, from 23/11, a negative PCR test is required for all those passengers arriving from any high-risk European country. In addition, many Autonomous Communities, including Catalonia, are implementing perimeter lockdowns.
In Catalonia, a plan for the progressive reopening of activities is being applied from 23/11 in phases. During the first phase, which will be applied at least until 20/12, the following restrictions affect the tourism sector:
- Restaurants and bars: parcial reopening with a capacity of 30% on the inside. Opening hours from 6am to 6pm. From 6pm until 9.30pm only dinners will be served. Take-away until 10pm and delivery until 11pm.
- Congresses, corporate meetings, and incentives and workshops have been canceled
- Night curfew from 10 pm to 6 am
- Municipalities lockdown: from Friday at 6 am until Monday at 6 am
It is expected that, from 21/12, the weekend restrictions will be extended within the county scope. However during Christmas, Boxing day and New Year's day, it will be allowed to travel within the whole Catalan territory, including those from the rest of Spain.
Source markets
As for the internal European mobility, despite the borders are open, almost all EU countries maintain restrictive measures. Some of them have recommended not to visit Catalonia and/or Spain, others have imposed mandatory quarantines, PCR tests, or other measures to passengers coming from Spain.
Scheduled global flights during 30/11 week have been decreased by -45.8% year-on-year. In Spain, the air capacity has dropped by -69.8%, which means a gain of +3.1pp compared to last week's loss.
Tourist offer and professional events
On 30/11/2020, 115 hotels were open in Barcelona city with a total of 25,037 beds available. The Eixample, the Gothic Quarter, and Sant Martí are the districts with more available offer.
The number of open cultural facilities in Barcelona city has been decreased during the last week: 88 cultural facilities are being monitored and 68.2% are open to the public. Some of the most visited sightseeing places in Barcelona city keep temporarily closed (Camp Nou Experience, Tibidabo, and Casa Batlló).
Finally, as for the professional events, it must be highlighted that there are 112 confirmed congresses for the upcoming years.
Tourist demand
The Google searches from Spain for Barcelona city have remained stable and those for Destination Barcelona have diminished over the last week. Most of the searches for both geographical areas keep coming from Catalonia.
As for flight searches to Barcelona, noteworthy is the last weeks' upward trend, despite all the analyzed markets have registered losses that have exceeded -55% year-on-year. The British market has experienced the least important loss (-55%). By contrast, the most affected market continues to be the United States, with a -84% drop. 
The hotel bookings in Barcelona city over the last week (23/11-29/11) have substantially grown: while two weeks ago, 18.4% of bookings had been made, last week, they were 30.8% (as compared with the peak of January). Over that same week, the volume of hotel reservations in Destination Barcelona has also significantly grown: while two weeks ago, 20.4% of bookings have been made, last week, they were 35.0% (as compared with the peak of January).
Related news