The Barcelona Tourism Observatory and The Hotels Network present the forecast for tourism demand over Christmas
The trends and opportunities for tourism activity in 2023 have also been analysed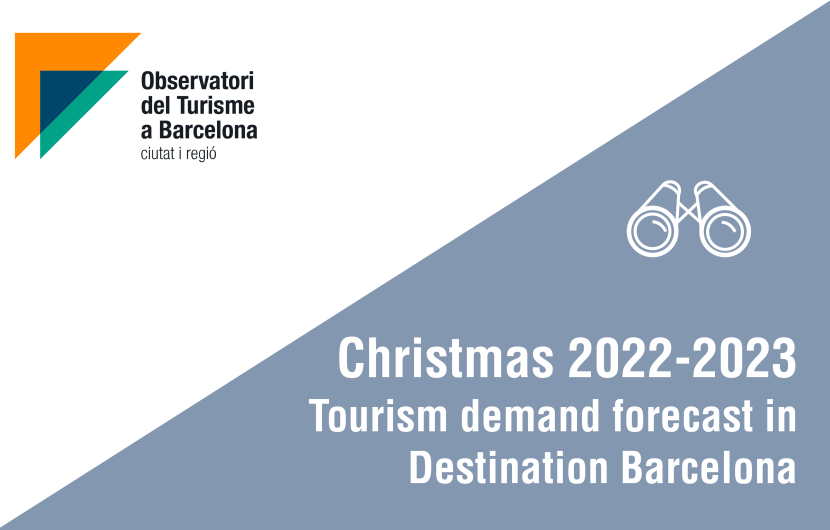 The Barcelona Tourism Observatory and The Hotels Network have presented, in a webinar session, the outlook for tourism demand over the Christmas period, with an overview of the state of connectivity in Destination Barcelona, the cultural and sporting agenda over the festive season, the interest in the Destination and the hotel bookings status. The presentation also has referred to the forecast, trends and opportunities for tourism activity in Destination Barcelona in 2023.
Connectivity of Destination Barcelona
During the Christmas season, Destination Barcelona will be connected to 153 air destinations, 36 of which will be intercontinental. This means that Barcelona airport is currently only 10% behind 2019 in terms of air destinations. This has been possible thanks to the reduction of travel restrictions, especially from April-May onwards.
From 16/12 to 06/01, some twenty cruise ship arrivals are expected at Port of Barcelona, which means that they will exceed those recorded just before the pandemic.
Cultural and sporting agenda
Although professional events such as congresses and trade fairs will experience a logical slowdown over the Christmas holidays, on a cultural and sporting level there will be a wide variety on offer which is already attracting and will continue to attract locals and foreigners.
A number of Christmas fairs and markets, traditional and popular culture events and festivities, concerts, sporting events, among others, have been scheduled throughout the territory. Some of these events could gather thousands of spectators and visitors. For example, the Wise Men's Parade in Barcelona is expected to attract 500,000 people, the New Year's Eve in Av. Maria Cristina in Barcelona, 20,000, the Badanadal in Manlleu, 18,000 and the Children's Festival in Barcelona, 15,000.
Interest for Destination Barcelona
As the Barcelona Tourism Observatory usually includes in its monthly Tourism Activity Forecast Reports, the webinar has presented the interest for Barcelona city and Destination Barcelona as a whole through online searches on Google. These have been above 2021 but below 2019 in the last year.
The list of the most searched concepts in Barcelona city includes tourist attractions such as the Sagrada Família, the Cathedral and Tibidabo, complementary destinations such as Andorra or Madrid, and other classic concepts such as meteorology. It should be borne in mind that the market that carries out most searches for Barcelona city as a destination is the domestic market, mainly from Catalonia, followed by the French market, especially from the Languedoc-Roussillon region.
The most popular searches for Destination Barcelona tend to focus mainly on attractions in Barcelona and Garraf, with special interest in Sitges, but we also find inland destinations such as Cardona and Montserrat. In this case, the majority have also come from Spain, mainly from Catalonia.
Christmas hotel bookings in Barcelona
The main characteristics of hotel bookings for the period between 16/12/22 and 06/01/23 are:
2 out of every 3 hotel bookings for Christmas this year were made by computer (66.8%), with an average lead time of approximately 60 days, being November the month in which most of them were made.
Bookings are distributed throughout the Christmas period, with those registered for New Year's Eve standing out slightly. The average length of stay in Barcelona city is 3.7 nights and 2.9 nights in the Barcelona region.
Almost 7 out of 10 bookings for stays in Barcelona region come from the domestic market, while in Barcelona city, these represent 3 out of 10. The French market ranks first in international hotel bookings, followed by the US market. Travel as a couple will be the most popular, followed by individual travel.
Hotel bookings in Barcelona city are higher than the average of other competing European cities during the Christmas period. In the Barcelona region, the dates with the highest demand coincide with those of Catalonia.
2023 tourism activity context
Despite the context of political instability, inflation and the energy crisis, Destination Barcelona faces an optimistic 2023 in terms of tourism activity:
The strengthening of the dollar could lead to an increase in demand and spending made by US tourists.
The Covid-19 situation has stabilised in most countries, so that almost all borders are open and most travel restrictions have been lifted. As a result, consumer confidence has quickly returned.
Several studies show that travel intentions are high. The inability to travel during the pandemic has caused a pent-up demand and that travel remains as a priority for consumers, who see travel as an investment in their mental and physical well-being.
Although not yet a key factor, sustainability is starting to become an important criterion for consumers. In this sense, it is worth highlighting the great commitment of Destination Barcelona, both at a public and private level, with actions such as the increase in the number of companies, services and destinations with a Biosphere certification.
Premium and business tourism will be less sensitive to price rises. As for the latter, 95 professional events have currently been publicly confirmed for 2023, but the year could end up with more than 400 meetings. 30 of these could attract more than 1,000 attendees.
As for air connections, in the summer season of 2023, Avianca will connect Barcelona with Cali and Medellín (Colombia) and United Airlines with Chicago in the United States.
At Port of Barcelona, according to initial forecasts, more than 850 cruise ships could arrive in 2023. The America's Cup will begin to attract its first visitors thanks to the first training and trials prior to the 2024 competition.
Searches for hotel stays in 2023 are particularly high in Barcelona city for certain periods such as the Mobile World Congress (February 2023), Easter (early April), the Seafood trade fair and the 1st of May long weekend (late April), and Primavera Sound (late May, early June). For Barcelona region, the level of searches remains lower, but stands out in the summer months, above Barcelona city. 
The hotel bookings level for 2023 is still low compared to the searches level, due to a reduced lead time of bookings. However, in Barcelona city the peaks of bookings mostly coincide with those of searches and, in Barcelona region, there are clearly some peaks at the beginning of the year and an upward trend from spring until the end of summer.
Related news